Tooth Extraction
Dentistry For You
Oklahoma City, OK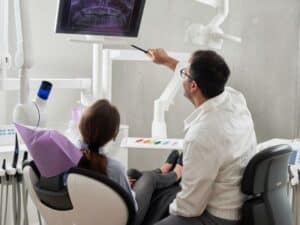 Are you suffering from unbearable toothache, and the thought of tooth extraction is causing anxiety? Look no further! Dentistry For You OKC is your trusted partner for painless and professional tooth extraction services.
Your Comfort is Our Priority!
At Dentistry For You OKC, we understand the fear and discomfort associated with tooth extraction. Our team of experienced dentists is committed to making the process as painless and stress-free as possible, ensuring your total comfort throughout the procedure.
Experienced Professionals: Our highly skilled dental experts have performed countless tooth extractions with precision and care, ensuring minimal discomfort for our patients.
State-of-the-Art Technology: We utilize cutting-edge dental technology to perform extractions efficiently and with utmost accuracy, reducing healing time.
Personalized Care: Your well-being is our top concern. We tailor our approach to your specific needs, ensuring a customized treatment plan for every patient.
Painless Procedures: With our advanced anesthesia techniques, you can rest assured that you'll feel minimal to no pain during your tooth extraction.
Rapid Recovery: Our specialized aftercare instructions and support will have you back to your normal routine in no time, with minimal post-extraction discomfort.
Don't let tooth pain control your life any longer! Contact Dentistry For You OKC today to schedule your painless tooth extraction. Our team is ready to provide you with the relief and care you deserve. Act now, and regain your smile!
Contact Us
Phone Number
(405)722-7767
Address
12321 Hidden Forest Blvd.
Oklahoma City, OK 73142